Cliff nesting raptors and rare steppic species
Birding in Soria
Plenty to see for ordinary nature-lovers and aficionado birders

"After a breakfast that is various and delicious you might choose to take a walk into the surrounding countryside. From the house in one direction a path leads you through a meadow grazed by lovely golden brown and mellow cattle to arrive at a magical arena of ancient and stately Junipers; going another way you pass by quince and apple trees to reach a lively trout stream. And, one way or the other, you might see a Cirl Bunting or a Wryneck as well as a host of chats, warblers and finches - along the river a Kingfisher is also possible. Further away but not far - easily walkable, in fact - is the Lobos canyon with its spectacular assemblies of choughs and vultures (and an eagle or two is not out of the question)...". Alister, London (stayed in April 2014).

With some sturdy footwear, a pair of binoculars, a field guide, and a packed lunch you are sure not to be disappointed on your birdwatching field trip.
Birdwatching close to home

We are lucky to live in a beautiful natural setting, and even from the perch of our own back garden we are able to enjoy quite a range of Spanish bird life. Regular nesters within chirping distance include Black Redstart, Wheatear, Rock Sparrow, Spotless Starling, White Wagtail, Wryneck, Stonechat and Nightingale. We have Swallows in the boiler house, Swifts under the tiles, and Martins in the eaves. A crowd of noisy Azure-Winged Magpies knocks around in the copse at the bottom of the field and among the trees we occasionally get a flash of a passing Golden Oriole.

Summer visitors include the unmistakable Bee-Eaters, who descend on the sunflower fields to eat their fill, and the Egyptian Vultures who often come down to strut around among the cows. We have Red Kites throughout the year and a Black-Winged Kite in the autumn. Cormorants, Sandpipers and Herons by the river in winter. Buzzards and Kestrels on telegraph poles; Barn Owl and Nightjars after dusk; Woodpeckers, Hoopoes and Shrikes...

But just a few minutes away from us is the main reason this area is a magnet to bird watchers: the River Lobos Canyon, an important wildlife reserve with 151 species of birds catalogued as residents or visitors to the park. The species of greatest interest are those that nest in the nooks and ledges of the canyon's rock walls, and in particular its 130 pairs of Choughs comprise a community of regional, national and international interest (see our website about the Rio Lobos Canyon).
Important bird areas within easy reach

We are nested between several IBAs with different types of birds and habitats: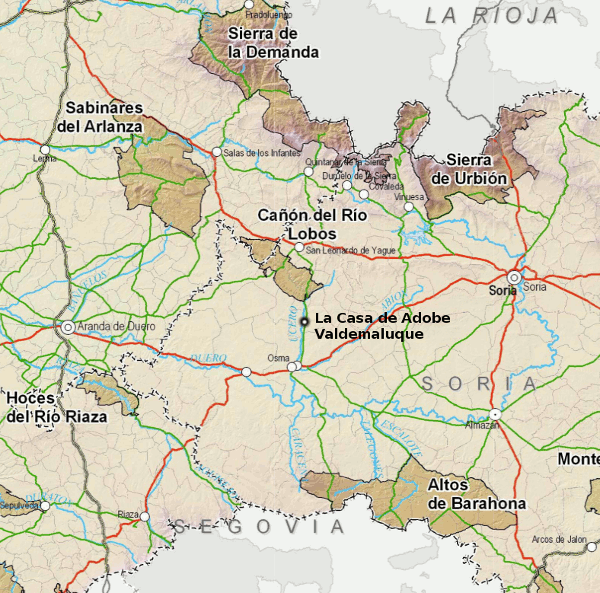 The River Lobos Canyon, Riaza Canyon, Arlanza Valley and the Tiermes-Caracena area offer a rugged landscape of limestone canyons and gorges with slopes and plateaus covered by pine, juniper and oak woods, scrub and farmland. These areas are important sites for cliff-nesting raptors such as Griffon and Egyptian vultures.

The Urbión and Cebollera and La Demanda mountain ranges comprise a large part of the Sistema Ibérico norte, while the Ayllón mountain range is a massif at the end of the Sistema Central. All are covered by large pine, oak and beech woodlands and extensive areas of grassland and sclerophyllous scrub and are important areas for species associated with upland forest and alpine grasslands, particularly raptors.

The Altos de Barahona and Layna high moors are deforested limestone plains dominated by non-irrigated cereal farming, low scrub and dry grassland, being an important area for steppic species and most notably for Dupont's lark.

All of these sites are within an hour or so's drive from our house and several are much closer; in fact the River Lobos Canyon is just five minutes from home.